Air-Conditioning Inspections
As part of the UK's response to the Energy Performance in Buildings Directive (EPBD), all air- conditioning systems need to be inspected at regular intervals, not exceeding 5 years, and an Inspection Report issued. This applies for all premises having a total cooling capacity of 12kW and above. Newly-constructed plant and equipment will need an inspection before they are 5 years old.
The inspection and reporting method will be in accordance with CIBSE TM44. This may range from a simple procedure for packaged cooling systems to a full procedure for complex air-conditioning systems. An air-conditioning system consisting of refrigeration equipment, air movement systems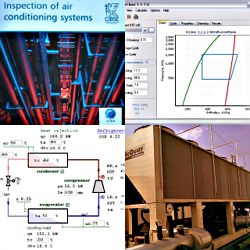 and their controls will be surveyed and all relevant documentation such as manuals, drawings, maintenance records, commissioning data and control strategies will be inspected. An Energen inspector will then assess whether the system is suitably sized for the cooling loads in the treated spaces and the overall effectiveness of the system.
The detailed report will conclude with observations and recommendations on energy-saving opportunities.
Air Conditioning Inspections will need to be undertaken by accredited Energy Assessors who are registered with an approved Accreditation Body, such as CIBSE Certification Ltd.
Energen provides a comprehensive Air Conditioning Inspection service. Our accredited air conditioning inspectors produce reports which not only help you to comply with legislation, but also indicate ways in which energy- and cost-savings can be made. Savings realised will mean that the cost of the inspection is normally paid back with a few months.
---
Contact Us
Energen Limited, Brunel Science Park, Uxbridge, Middlesex, UB8 3PQ
......E-mail: info@energen.co.uk ................Click here for contact form.