Metering Strategy
A good metering strategy and good metering within a building is an essential energy management tool. Most buildings have meters on their incoming supplies for billing purposes but these meters do not indicate where and why a building is performing badly. Sub-metering on major equipment types provides a means to identify where and when energy is being wasted.
In common with any monitoring system, sub-metering in itself does not save energy. It is the action that results from the analysis and interpretation of data that saves energy. Typically, 5-10% of energy use can be saved as a result of energy being sub-metered and managed. A good sub-metering installation, coupled with good automatic monitoring and targeting (aM&T) will provide a cost-effective solution to deliver energy savings. In addition, the installation of approved equipment will attract Enhance Capital Allowances, enabling the full cost to be 100% depreciated in the first year.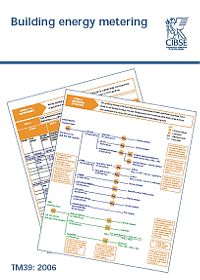 CIBSE TM39 provides a methodology for sub-metering and this is linked to CIBSE TM31 on Building Energy Log Books, further underlining the requirement to measure energy use before being able to properly manage it. Both of these documents provide good practice energy advice and are Part L 'second tier' referral documents.
Sub-metering should be provided as follows:
To each tenanted area in excess of 500 m2
To heating and cooling services to separately tenanted areas greater than 2500 m2
Boiler or CHP installations greater than 50kW input power
Chiller installations greater than 20kW input power
Electric humidifiers great than 10kW input power
Motor Control Centres providing power to fans and pumps great than 10kW
In addition, the energy use to be sub-metered should be at least 90% of the the total incoming energy. If this condition is not met, then more sub-metering is required!
We can assist with developing a metering strategy with new or existing buildings, leading to the project management or installation of metering and monitoring equipment, if required.
---
Contact Us
Energen Limited, Brunel Science Park, Uxbridge, Middlesex, UB8 3PQ
......E-mail: info@energen.co.uk ................Click here for contact form.